Inspiring African Youth | Fig
---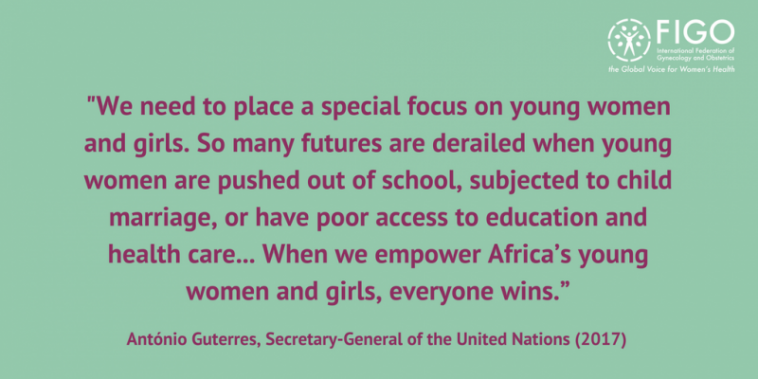 This year, FIGO asked Dr Anne Kihara, Member of FIGO and President of the African Federation of Obstetrics and Gynecology, Kenya to share her thoughts:
Children are the most precious gem for the global future! Quality care must be provided to ensure that girls realize their full potential in youth and of childbearing age.

Obstetricians and pediatricians need to show leadership in addressing social determinants and providing a robust reproductive and public health system with an acceptable socio-cultural context, from the household to the global level. We must take care of all children to ensure that their lives are supported, alongside progress towards the Sustainable Development Goals; without anyone being left behind and every woman and child being taken into account.
Cases where the African child has failed include:
Health indicators in Africa increasingly show that we are grappling with premarital sexual debuts and marriages with increased vulnerability to sexually transmitted diseases and HIV; teenage pregnancies; unmet need for modern contraceptives, unplanned pregnancies and unsafe abortion; obstetric fistulas; psychosocial aberrations due to dysfunctional relationships; drug abuse; school dropout rate with languid cycle of poverty; despondency / stigma; sexual impotence, especially for girls, and in some cases severe disability and even death.

Legislature and remedial policies, leadership and research aimed at the growing child and adolescent have yet to take a firm hold in many African countries. Unfortunately, children often do not have a "voice" over their own health and well-being.

The Information Age reveals that more evidence is dictating how we take a more pragmatic approach to filling the gaps and using innovative communication strategies. Parents, guardians, mentors and clinicians all need to spend quality time seeing the child as an integral part of their decision-making processes for their health and well-being… .. Inspire them to exhale their full potential.
Inspiring young Africans to reach their full potential and investing in their health and well-being is indeed an integral part. With 60 percent of Africa's population currently aged 24 and under, it is evident that with the right investments, Africa's youth could play an important role in facilitating high and inclusive economic growth and poverty reduction through the continent.