ITU Generation Connect – Africa Youth Group (GC-AFR) 2022 for young Africans
---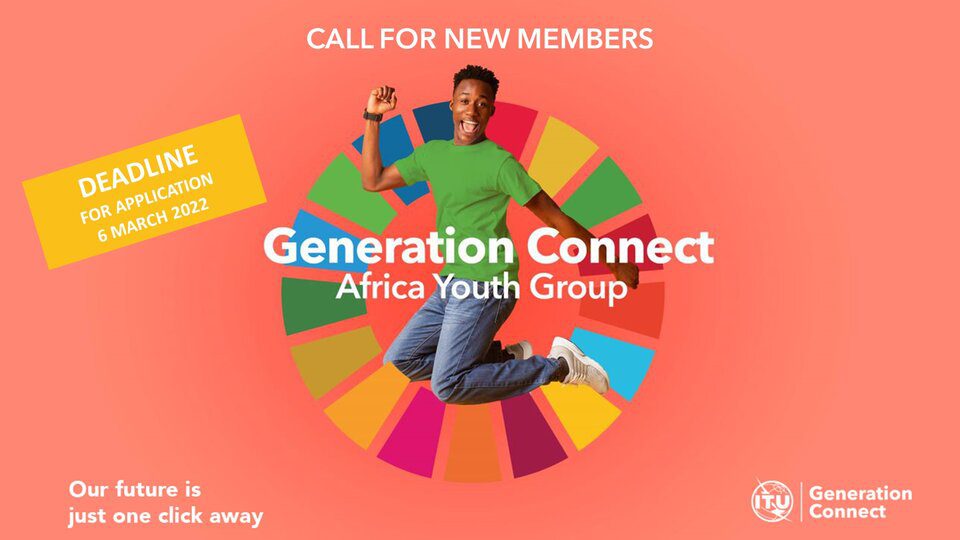 Registration deadline: March 6, 2022​​
ITU Office for Africa has launched a call for new members of the Generation Connect – Africa (GC-AFR) group as part of the global "Generation Connect" initiative, which aims to engage young people around the world and encourage their participation as partners equal alongside today's leaders. digital change.
The Generation Connect – Africa Youth Group (GC-AFR) aims to provide a unique participatory process for young people to contribute to the work of the International Telecommunication Union (ITU) in the African region. It is established as part of the global initiative "Generation Connect".
GC-AFR offers African youth a virtual platform to discuss the opportunities and challenges related to digital technologies in the African region. Through this platform, young people will be able to share with ITU Members their interests, concerns and perspectives on digital transformation, especially in the context of the upcoming World Telecommunication Development Conference 2022 (WTDC-22) and Summit Generation Connect Youth World. will be held in 2022.
This initiative was launched in November 2020, in line with the ITU Youth Strategy which aims to improve and have a real impact on the lives of young people around the world and to ensure meaningful youth participation in ITU as key stakeholders in the implementation of the 2030 Agenda for Sustainable Development.
Eligibility criteria
To be eligible for the GC-AR, applicants must meet the following criteria:
Be between 18 and 25 years old;
Be a citizen of countries in the African region;
Have an interest and/or experience and knowledge in the field of digital technologies and digital transformation, including in the application of digital solutions in areas such as education, health, civic participation or other public services;
Possess strong communication, analytical and writing skills;
Possess the ability to work remotely in a team; Have an advanced level in English or French
Interested in and/or having experience and knowledge in the field of international cooperation as well as being active in a national or regional youth organization in African States would be an advantage (not mandatory).
Young Africans are invited to submit their application via the online form before March 6, 2022, 11:59 p.m. Addis Ababa time. After a thorough analysis of all applications, the composition of the group will be announced by March 11, 2022.
​Generation Connect – African Youth Group​​
first phase – January – June 2021
Phase two: July 2021 – July 2022
Modality: In line
Commitment time: To define
For more information:
Visit the Official Webpage of the ITU Generation Connect – Africa (GC-AFR) Youth Group 2022